Unveiling Blogger John Fraiser M.Div
  About 10 days ago a certain John Fraiser dropped by the blog and commented on three posts on Unveiling Christianity. I responded to all three to which he replied to only one. You may follow the discussion between John and me here. His comment was actually on this video but he posted it on the wrong post. I responded to that comment of his and he in turn replied with a rather lengthy reply which forced me to open a new post just for that. So on that new post I responded to each of the points he brought up. You may check out the discussion here. That response of mine was posted on the 29th of April, 2008. I waited for about 5 days from the said date with much anticipation for some feedback from Mr. John Fraiser, but to no avail. Finally, I decided to invite him to come back to Unveiling Christianity by commenting on his blog and inviting him back here to continue the discussion. You know what happened to my invitation? It was deleted! I said to myself, " it's okay, let's give this guy the benefit of the doubt. Perhaps there's been some technical hiccup". So, in good will I posted yet another invitation today:
 And the following shows the DELETION! :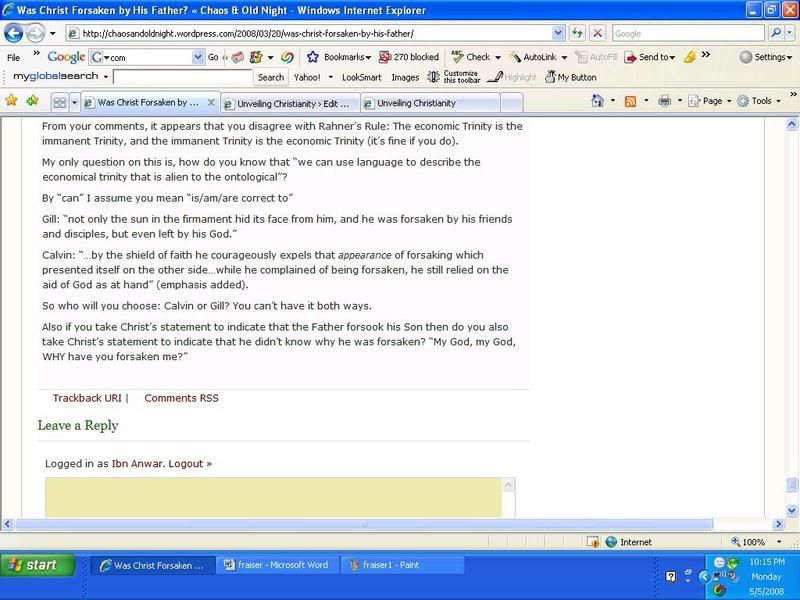 It appears John Fraiser wants the discussion to end i.e. his ship has sunk or he's jumped overboard. John reminds me of another Christian who acted in almost the same manner. This Christian was no other than Pastor Carrey who also abandoned ship!
By the way, you must be asking who this John Fraiser is. Well, in his own words :
"I recently graduated with my M.Div from The Southern Baptist Theological Seminary and barring a good score on the GRE, I'll pursue a M.A. in philosophy. If all goes well I'll earn a Ph.D. in philosophy and begin to teach and write in the area of philosophy and Christian apologetics."
Is he doing a good job at it? I leave that for the readers to decide.
You may visit John Fraiser at his blog http://chaosandoldnight.wordpress.com.
I wonder how deleting my comments and refusing to dialogue in such a manner correspondswith the following scriptual command?
"…Always be prepared to give an answer to everyone who asks you to give the reason for the hope that you have. But do this with gentleness and respect…"(1st Peter 3:15)
*** Please check out the discussion which led John Fraiser to abandon ship :
http://unveilingchristianity.wordpress.com/2008/04/29/an-aspiring-theologian-takes-on-ibn-anwar/