The Deleting Pastor. What's up with that?
by Ibn Anwar
Pastor Carey was virtually UNKNOWN to me before 8 days ago, which was December the 20th. He responded to my article Is God All Knowing? which I have replied to. Unfortunately, I have yet to receive any feedback from him to my reply. So I thought I'd check him out by going to his blog. Whilst browsing through the contents an article with a catchy title, "Do you have a ticket to heaven?" caught my eye. The article was rather brief and I thought I'd share my two cents with the good pastor. Before that let me introduce the pastor in his own words," I'm an everyday guy who is continually amazed that I've been given the honor of being a husband (18 years), father (of 5!), and pastor. Currently I serve at Community Church in Leadville, Colorado. " The following are several exchanges I had with Pastor Carey :
Ibn Anwar, on December 20th, 2007 at 8:04 pm Said:
Greetings,
Pastor, there is only one way to enter paradise..and that is to worship God and only Him. As Jesus said:
"This is life eternal(salvation), that they may know You(The Father) THE ONLY TRUE God, and Jesus Christ whom You have sent."
(John 17:3)
Ibn Anwar
http://unveilingchristianity.wordpress.com
—————————————————————————-
Carey, on December 21st, 2007 at 6:51 am Said:
In no way was I condoning or supporting the site I mentioned. I think it's a tragic misuse of a very stark reality.
The true way to heaven is through faith in Jesus Christ. As is said by Jesus, "I am the way, the truth, and the life and no man comes to the Father but by Me."
—————————————————————————–
Ibn Anwar, on December 23rd, 2007 at 2:55 am Said:
Greetings,
Sir, I would agree with you that Jesus is the way, the truth and the life and no man cometh unto the Father but through him…but you should put that within its context…first of all it was spoken to the people whom Jesus was sent to i.e. the lost sheep of Israel..secondly..Jesus is the way, yes..as how all other Prophets were a way to God in their own respective dispensations e.g. in the time of Moses, he was the only way, but, some of his people chose other paths like that of the Golden Calf and as such they were destroyed. The verse you quoted by no means contradict that which I provided and I shall repeat it again
"This is life eternal(SALVATION), that they may know You(The Father) THE ONLY TRUE God, and Jesus Christ whom You have sent." John 17:3
Ibn Anwar
http://unveilingchristianity.wordpress.com
———————————————————————
Carey, on December 23rd, 2007 at 6:58 am Said:
In no way was I trying to say that your previous comment was contradictory to the verse to which I referred. I agree that salvation is known through our knowledge of the Father – but that knowledge comes THROUGH Jesus Christ ONLY.
I am simply saying that Jesus is more than "a" way to God (as you claim other prophets were). He is THE way to God – PERIOD. He Himself says so. The Apostle Peter said the same when he stated, "And there is salvation in no one else, for there is no other name under heaven given among men by which we must be saved." – Acts 4:12
Regarding your claim that Moses was "the" way to God during his dispensation – I would have to differ. In the Old Testament period (Mosaic law period included) – people were justified by faith in God, not through a prophet (Moses). The writer of Hebrews makes this clear when he says – "For Jesus has been counted worthy of more glory than Moses–as much more glory as the builder of a house has more honor than the house itself." – Hebrews 3:3 The writer of Hebrews continues to say that all the ancient peoples were commended by their faith in God – alone. (Hebrews 11:39)
Thank you for your comments. I pray a blessed Christmas for you and yours…
————————–"End of discussion"………………………………………….
 In truth, the discussion didn't end there. In fact, I sent two responses to Pastor Carey's last piece. My responses were dated 23rd December which was just two days before Christmas. Like my blog, Pastor Carey's comment section is moderated i.e. all comments must be approved first before they appear for public viewing. Thus, I patiently waited for the comments to be approved and anticipated a reply from the good pastor. One day went by, two days, three days..I started to wonder why it's taking him so long to approve and respond. I guessed that perhaps being a pastor and everything his schedule must be packed for Christmas, so I excused any ill thoughts. However, today after 5 days of waiting I discovered that the responses have been deleted! For those not familiar with wordpress may ask,"how do you know that?" It's quite simple really. When you've posted a comment on a moderated blog it has to be approved before the public can read it. However, you as the author of the comment whilst logged on your wordpress account can see and read it so long as it awaits moderation and hasn't been deleted by the owner of the blog. The comment will bear the "awaiting moderation" status above it. You can conclude that the comments have been deleted if you yourself cannot find the comment anymore for the respective articles you commented on.
The following are "print screen" shots of my responses to Carey's article(as insurance lol) :
The last comment the pastor made which called for my two comments which were deleted. As you can see, this print screen was done today, by which time my comments have already been deleted.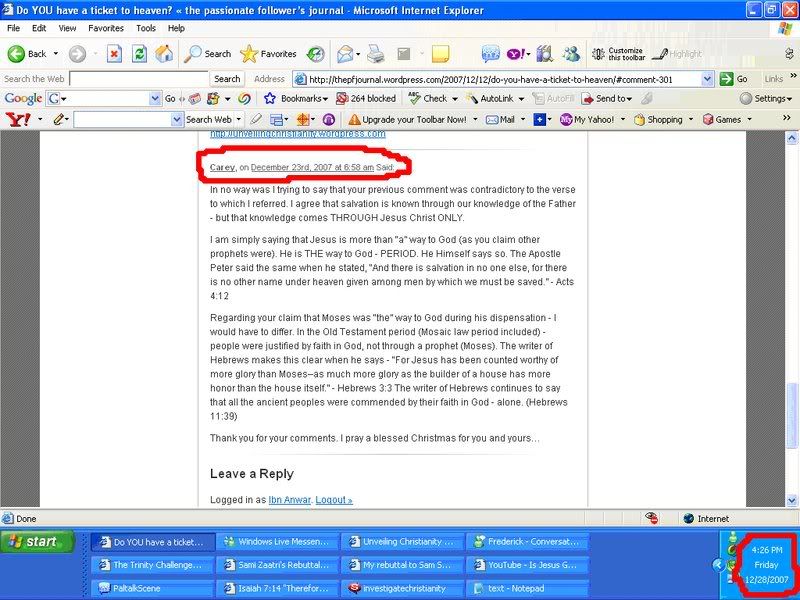 "Print Screen" of my first response done on 12.24.2007
 "Print Screen" of my second response done on 12.24.2007
Another "print screen" as evidence of deletion done today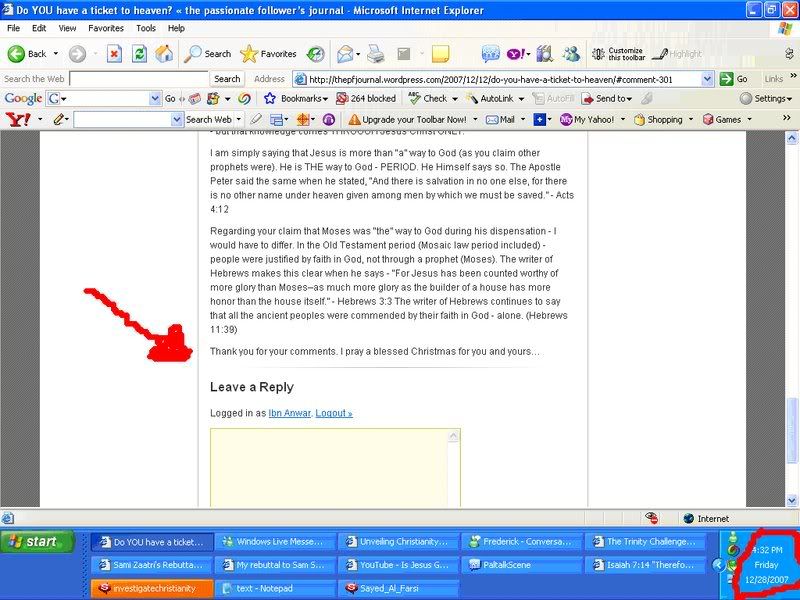 The arrow points to the absence of my responses which means they have been deleted.
 It would appear that Pastor Carey wanted to have the last word. Well, it's his blog, so it's his prerogative whether to approve or unproved and delete comments made. However, if the comments do not contain undesirable things such as lewdity does it not deserve a chivalrous reply? I mean come on, if it was off topic at the very least then sure, delete away. But it was right on the mark. Does the Bible not say "Prove all things" for those who know their Bible? By deleting my comments, does it not show a sign of weakness and maybe even dishonesty? Perhaps my responses were too heavy for the Pastor….has the Holy Spirit deserted him in this "joyous" season of "blessings"?